Cardinal McCloskey Community Charter School
About Our Charter School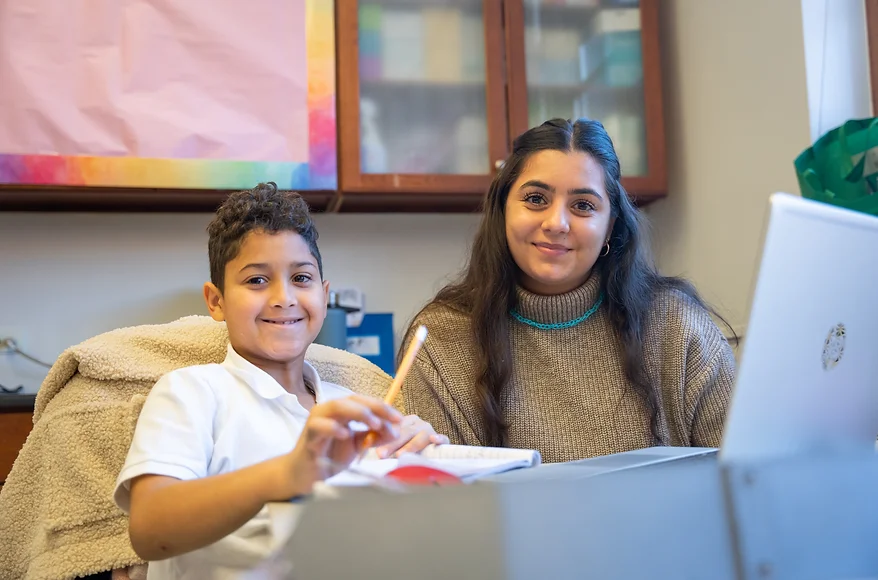 Our Mission
We Provide an Environment for Our Students to Grow & Excel
The mission of Cardinal McCloskey Community Charter School is to address the academic, social-emotional and developmental needs of its students in a safe, supportive and trauma-sensitive learning environment.
 A trauma-informed approach

 Next Generation Learning

 Extended day programming

 Social, emotional, developmental and behavioral growth

.
Additional Information
Resources
Free Educational Resource Links
khanacademy.org
Learn for free about math, art, computer programming, economics, physics, chemistry, biology, medicine, finance, history, and more.
education.com
Get a learning boost with thousands of worksheets, games, lesson plans, and more from a library of printable and digital resources.
kids.nationalgeographic.com
Learn about geography, animals, social issues and much more in a fun and interactive approach.
sesamestreet.org
Features video clips, games, playlists, and more to foster learning in children.
coolmath.com
Cool Math has free online cool math lessons, cool math games and fun math activities.
scholastic.com/parents/school-success/learn-at-home.html
Skill builders, literacy tips, books, and more, this website aims to educate.
earth.google.com
Explore the world without leaving your seat.
brainpop.com
Animated Educational Site for Kids – Science, Social Studies, English, Math, Arts & Music, Health, and Technology.
timeforkids.com
TIME for Kids nurtures today's learners and tomorrow's leaders with authentic news and the critical-thinking skills that shape active global citizens.
pbskids.org
Educational games and videos from Curious George, Wild Kratts and other PBS KIDS shows!
starfall.com
Learn how to read through games and phonics.
funbrain.com
Fun Brain is the #1 site for online educational games for kids of all ages. (math, grammar, science, spelling, history)
highlightskids.com
The place for children of all ages to play games and discover new jokes, surveys, answers to science questions, and fun crafts and recipes from Highlights.
thekidzpage.com
Hundreds of free kids games, puzzles, activities, coloring pages, clip art & more for children and families.
learninggamesforkids.com
These online learning games and songs for kids are fun, teach important skills for preschool and elementary school students.
mathgames.com
Math Games offers online games and printable worksheets to make learning math fun.
howstuffworks.com
How Stuff Works explains thousands of topics, ranging from the flu to black holes to conspiracy theories, with video and illustrations so you can learn how stuff works.
nickjr.com
Play preschool learning games and watch episodes and videos that feature Nick Jr. shows like Paw Patrol, Blaze and the Monster Machines and Dora.
exploratorium.edu
Let kids tinker with gadgets, go below the sea, rocket into the galaxy, as well as learn about the science of gardening, animals, and cells, to name a few.
What are the Needed School Supplies?
English
1 black and white notebook labeled with your child's name and class
2 boxes of #2 pencils-one for home and one for school
2 small packs of Crayola crayons- one for home and one for school
2 packs of 8 markers-one for home and one for school
4 glue sticks-2 for home and 2 for school
1 small bottle of Elmer's glue for home use
1 packs of multicolored construction paper
1 pack of white drawing paper
2 large erasers – one for home and one for school
Espanol
1 cuaderno en blanco y negro etiquetado con el nombre y la clase de su hijo
2 cajas de lápices n.° 2, uno para el hogar y otra para la escuela
2 paquetes pequeños de crayones Crayola, uno para el hogar y otro para la escuela
2 paquetes de 8 marcadores, uno para el hogar y otro para la escuela
4 barras de pegamento, 2 para el hogar y 2 para la escuela
1 frasco pequeño de pegamento de Elmer para usar en la casa
1 paquete de cartulina multicolor
1 paquete de papel de dibujar blanco
2 gomas de borrar grandes – una para el hogar y otra para la escuela
Our Partners
Kips Bay Boys and Girls Club
Operates an after school program at CMCCS between the hours of 4-6PM (M,T,Th,F) and 2-6PM (W). The cost is $40/week. Program Director, Latisha Smith, is available to discuss the program's educational and recreational activities. https://www.kipsbay.org/ps36
Bronx Botanical Garden
https://www.nybg.org/learn/schools-teachers/class-trips/
48th Precinct
The 48th Precinct has helped CMCCS plan events for the upcoming school year including our annual block party.
https://www.facebook.com/NYPD48pct/
https://www1.nyc.gov/site/nypd/bureaus/patrol/precincts/48th-precinct.page
Local Government – Community Board 6
Local community based organization which works closely with our school.
Sanctuary
As a Sanctuary Certified organization, our school culture is based seven commitments to facilitate healing from trauma.
The 7 Sanctuary Commitments
Nonviolence
Traumatized children have often experienced violence. The violence might be physical, psychological, social and/or moral. This commitment to Nonviolence produces the opposite experience for our kids.
Emotional Intelligence
Traumatized children have often experienced insensitivity and disrespect regarding their behaviors and feelings. Emotional Intelligence moves us to understand the relationship between our clients' negative experiences and their emotions and behaviors, so we can respond with those experiences in mind.
Social Learning
Traumatized children often isolate themselves as a form of self-protection and engage in repetitive patterns of thinking and behavior. Social Learning promotes collaborative thinking and problem solving to break dysfunctional and repetitive patterns of behavior. We emphasize the child's and family's exposure to other's perspectives and ideas. To mitigate the isolating effects of shame, we teach our clients to view mistakes as positive learning opportunities.
Democracy
Traumatized children often have experienced an overwhelming sense of helplessness during the traumatic event, which can lead to learned helplessness in the future. Democracy requires active participation and empowerment as a way to replace that helplessness.
Open Communication
Traumatized children develop a heightened sense of secrecy as a result of prolonged exposure to traumatic experiences such as sexual abuse and parental alcoholism. Open Communication creates a community that tolerates expression of emotions and openly explores interpersonal and organizational issues.
Social Responsibility
Traumatized children and families often experience injustice either during or in response to reporting a traumatic event. Social Responsibility focuses on building communities in which people feel a sense of responsibility and care for each other and the group as a whole. This commitment also assures that people are held accountable for their actions.
Growth and Change
Traumatized children often become paralyzed by their experiences so that they continue to relive or repeat the past in ways that prevent healing or growth. Growth and Change is a commitment to evaluate current behaviors while focusing on the future by setting achievable goals and breaking dysfunctional patterns.
http://sanctuaryweb.com/TheSanctuaryModel.aspx
Preventing Academic Failure (PAF)
We are working with one of the creators of Preventing Academic Failure (PAF) to bring the best multisensory phonics-based program to your children. We believe that if the children can read, it will provide them with the tools for academic success.
Our Vision
Teaching the Professionals of tomorrow
The charter school focuses its outreach and student recruitment efforts to enroll at-risk students in the community—i.e. students who are in foster care and who are receiving preventive services. Cardinal McCloskey Community Charter School addresses the needs of these students by providing a rigorous academic program in a traumasensitive environment that gives students comprehensive wraparound services and support. Students in foster care or preventive services in CSD 10 are in more need of effective academic programs and supportive services than students who are not in foster care or receiving preventive services.
A Message From
Our Principal
The Cardinal McCloskey Community Charter School model addresses the needs of at-risk children. It cultivates a trauma sensitive environment in which at-risk youth can maximize their potential to learn, heal and grow. This model establishes a safe, supportive and therapeutic environment for students and staff and helps each student build a strong social-emotional foundation that prepares him or her for academic growth.